VELUX Sun Tunnel Skylights
Brighten even the smallest spaces with one of our rigid or pitched VELUX Sun Tunnel Skylights. You'll see more savings and sustainability, too, with higher energy efficiency and a lower carbon footprint. It's the quick and easy way to bring natural light to any space.
Rigid Sun Tunnel
Rigid tunnels are recommended when there is a straight, unobstructed path from the roof to the ceiling, although they can be maneuvered slightly. With a Rigid Sun Tunnel, you'll enjoy brighter white light and can see more savings and sustainability too with solar-powered accessories.
1
2
3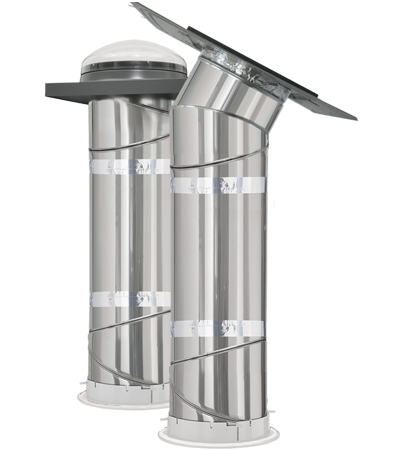 Product Features
Pivoting Tunnel System

The adjustable pitch adapter makes tunnel installation easier and enables more light to be captured.

Flexi Loc™ System

An innovative tunnel connection system that cuts tunnel installation time and helps deliver the highest-quality daylight into the space below.

Diffusers

Select from a range of micro-engineered decorative diffusers and you can easily match or enhance your Sun Tunnel to the décor of any interior room.
What People Are Saying About VELUX Sun Tunnels
(36)
Awesome natural light!
"We had three of these installed in our new home and we absolutely love them. We had them put in hallways and rooms with no windows and it is awesome to not have to turn lights on when entering these places during the day. I would highly recommend these to anyone!"
–Eric P.
Warranty
VELUX 20/10/5-year limited product warranty
As the world leader in roof windows and skylights, we stand behind our products with a promise of lasting service and quality. We do offer the VELUX 20-/10-/5-year limited product warranty for specific product coverage issues. If you have concerns about your VELUX products that may require a warranty claim, the warranty brochure includes specific steps for you to follow that will help VELUX better assist you.
Learn More