Sun Tunnel® skylight installation by Stoneham's VELUX® experts.
Get a quote today.
Brighten even the smallest spaces in as little as half a day. Enter your information to get a quote started for your Sun Tunnel skylight project.
Exchange artificial light for a portal to sunshine.
VELUX Sun Tunnel skylights send daylight through a reflective tube to transmit a pure, clear and natural light to the space below. They are easily installed in your ceiling, so you can seamlessly brighten your tightest spaces.
Key Benefits
Quick install – as little as 90 minutes

Cost effective

30% tax credit when you go solar

Solar Night Kit for moonlike glow

20-year tube warranty

If you live in or near a wildfire-prone area, VELUX Wildfire Glass Curb-Mount Sun Tunnel skylights are suitable for wildfire-prone areas.
Rigid Sun Tunnel® Skylights
Rigid tunnels are recommended when there is a straight, unobstructed path from the roof to the ceiling, although they can be maneuvered slightly. With a Rigid Sun Tunnel skylight, you'll enjoy brighter white light and can see more savings and sustainability too with solar-powered accessories.
1
2
3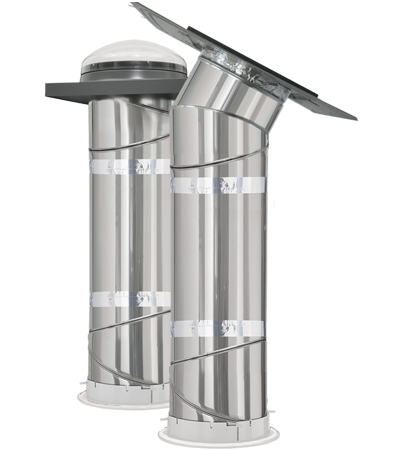 Product Features
Pivoting Tunnel System

The adjustable pitch adapter makes tunnel installation easier and enables more light to be captured.

Flexi Loc™ System

An innovative tunnel connection system that cuts tunnel installation time and helps deliver the highest-quality daylight into the space below.

Diffusers

Select from a range of micro-engineered decorative diffusers and you can easily match or enhance your Sun Tunnel skylight to the décor of any interior room.
As local VELUX skylight experts, we are uniquely qualified to bring natural light and
fresh air

into your home.
Experienced Specialists

For over 5 years, M&M Skylights Boston has provided worry-free installation and specialized service. Our installers are trained in VELUX installation and maintenance.

Local Team

We are VELUX skylight experts servicing local neighborhoods. The nationwide network of VELUX-trained installers ensures that there is a qualified, trained installer in your area.

No Leak Promise

VELUX No Leak Skylights carry a 10-year installation warranty, plus 20 years on glass, 10 years on product, and five years on shades and controls.

Maintenance Services

As your local VELUX installer, we can repair or replace an old or damaged skylight with a VELUX skylight. Upgrading your skylights can make a major impact on your home's energy efficiency and appearance.

Free Quotes

We know that every skylight project is unique. Give us a call to get an accurate quote at

978-403-4866

.
What People Are Saying About VELUX Sun Tunnel Skylights
–Eric P.
Awesome natural light!
"We had three of these installed in our new home and we absolutely love them. We had them put in hallways and rooms with no windows and it is awesome to not have to turn lights on when entering these places during the day. I would highly recommend these to anyone!"
Warranty
VELUX 20/10/5-year limited product warranty
As the world leader in roof windows and skylights, we stand behind our products with a promise of lasting service and quality. We do offer the VELUX 20-/10-/5-year limited product warranty for specific product coverage issues. If you have concerns about your VELUX products that may require a warranty claim, the warranty brochure includes specific steps for you to follow that will help VELUX better assist you.
Learn More