Bring in daylight without worry
Old Skylights

Potential to Leak
Energy Inefficient
Harmful UV Rays
New VELUX Fresh Air Skylights

No Leak Warranty
Solar-Powered Rain Sensor
Energy Star Certified

Qualifies for 30% Federal Solar Tax Credit
Clean, Quiet & Safe Glass
Remote Control Shades
Solar Powered

Fresh Air

Skylights
Fresh air skylights open to bring natural light and air into your home. A rain sensor on the solar and electric models automatically closes the skylight at the first sign of rain. With our No Leak Promise, we keep water and worries out and sunshine flowing in.
1
2
3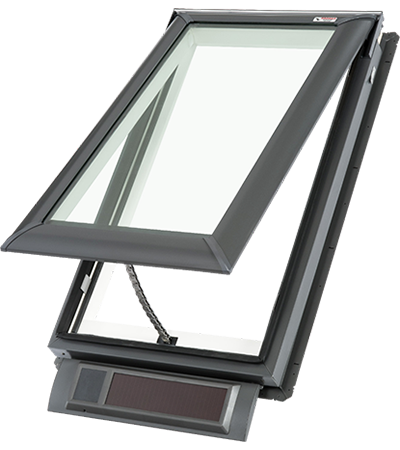 Product Features
1

Solar-Powered with Rain Sensor

Powered by the Sun, Prepared for the Rain

A small exterior solar panel captures all available daylight to power smooth skylight operation. Plus, with an integrated rain sensor, your skylight will close automatically at the first sign of inclement weather.

Control with the Touch of Your Finger

The VELUX Solar Powered Fresh Air Skylight comes with a preprogrammed remote control, which allows you to open or close your skylights at your convenience or at scheduled times of the day.

Easy Pick&Click™ Blind Installations

VELUX skylights are fitted with preinstalled brackets to ease with installation and to ensure you achieve a perfect fit on blinds, every time.
Product Features

1

Solar-Powered with Rain Sensor
As local VELUX skylight experts, we are uniquely qualified to bring natural light and
fresh air

into your home.
Experienced Specialists

For years, Aladdin Industries has provided worry-free installation and specialized service. Our installers are trained in VELUX installation and maintenance.

Local Team

We are VELUX skylight experts servicing local neighborhoods. The nationwide network of VELUX-trained installers ensures that there is a qualified, trained installer in your area.

No Leak Promise

VELUX No Leak Skylights carry a 10-year installation warranty, plus 20 years on glass, 10 years on product, and five years on shades and controls.

Maintenance Services

As your local VELUX installer, we can repair or replace an old or damaged skylight with a VELUX skylight. Upgrading your skylights can make a major impact on your home's energy efficiency and appearance.

Free Quotes

We know that every skylight project is unique. Give us a call to get an accurate quote at

801-997-8795

.
What People Are Saying About VELUX Skylights
(36)
"VELUX skylights helped transform my sunroom from a troublesome home-maintenance headache to a beautiful four-season escape. I know the skylights are properly flashed, so I won't need to worry about wood rot or leakage. The sunroom had previously been too hot for summer use, now I can vent the skylights to create a cool breeze that makes summer use not only possible, but inviting."
–Judy H.
Warranty
VELUX 20/10/5-year limited product warranty
As the world leader in roof windows and skylights, we stand behind our products with a promise of lasting service and quality. We do offer the VELUX 20-/10-/5-year limited product warranty for specific product coverage issues. If you have concerns about your VELUX products that may require a warranty claim, the warranty brochure includes specific steps for you to follow that will help VELUX better assist you.
Learn More